About RIBALEX.DK
RibAlex.dk was founded in 2004 by Alex Garavano, today we are 10 employees with a fleet of 5 vessels to offer a wie variet of fantastic experiences on the water.
We aim to provide exciting experiences at sea in an entertaining and safe way. We take a consistent position and do not compromise with regards to safety at sea, official approvals and examination of our vessels.
In relation to our activities on the water we have established RibAlex.dk as being a front runner and market leader within passenger transport in RIBs and motor vessels.
To ensure that every trip in any of our vessels always takes place under safe and secure conditions, we are extremely focused on emphasizing that every crew member is consciously aware of their responsibilities and always operating our vessels in the most safe and reassuring way for the passenger. Therefore, we take great pride in the education of our crew and the maintenance of our vessels. Thus we will always be able to consistently offer fun experiences on the water with a high degree of professionalism and focus on the comfort and safety of our passengers.
WE OPERATE DENMARK'S LARGEST AND FASTEST RIB SERVICE, AUTHORISED BY THE DANISH MARITIME AUTHORITY
The term 'Power RIB' denotes a type of inflatable boats with a solid or rigid hull (Rigid Inflatable Boat).
A RIB is a vessel, typically constructed with a fiber glass hull and inflatable pontoons to stabilize the operation of the boat at high velocity. The material and construction used makes the vessel extremely light and easily maneuverable under all weather conditions.
The RIBs currently known are an evolution of vessels developed for the British Navy in the 1960s. Originally, RIBs were developed for the Navy for a number of purposes, e.g. to assist in rescue operations as well as other offshore operations.
RIB sailing is closely related to speed and action, and our captains are all highly skilled in handling and security in all aspects of sailing.
When you order RIB sailing with Ribalex.dk you will have a unique experience to remember.
Tornado 600 are the largest Power RIBs of the company. Their 31 feet hull and twin motor installation with a total of 600 hp place them directly as a number 1 among Formula 1 boats. This is thoroughbred horse power with a potential for velocities above 60 mph. A trip in one of these RIBs is an experience you will never forget.
Type: Tornado 600 hp
Length: 9.5 meters / 31 feet
Origin: United Kingdom
Engines: 2 x 300 hp[/mt_one_half]
Velocity unloaded: 60 knots (approx. 70 mph)
Velocity loaded: approx. 55 knots (more than 60 mph)
Crew: 2
Passengers: 12
Number of vessels: 5
Facts:
RIB = Rigid Inflatable Boat.
Kn.= Knots; 1 knot = 1.852 km/t = 1.151 mph.
nm = Nautical mile; 1 nm = 1.852 km = 1.151 miles.
Fuel = Gasoline.
Fuel consumption = 50 – 80 litres pr. hour pr. engine.
Fuel capacity = 450 litres.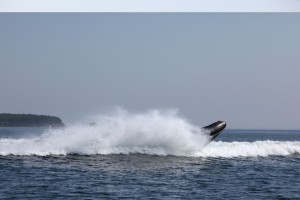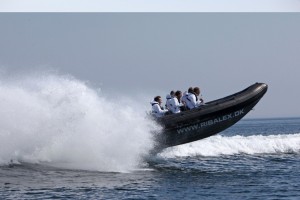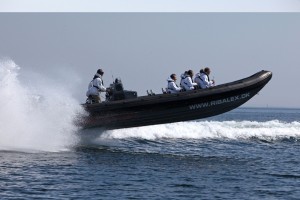 [rev_slider_vc alias="Rie"]
Our 9 meter Svendborg Classic motorboat is a charming classical vessel. It will give you a stylish and evocative experience at a leisurely speed. The passenger area is fitted entirely in teak, and the lighting, sound and temperature will provide comfort all year round. The obvious choice for company get-togethers, trips with friends, wedding sailing et cetera.
Prices for trips with 'Rie'
Copenhagen Harbour: DKK 2500 per hour
Øresund: DKK 3500 per hour
For each subsequent half hour: DKK 1250.
All prices above are all inclusive for up to 12 passengers (possible harbour fees are however not included)
For decades, it has served the Danish Navy as a robust barge, line handling and tow boat, this seagoing vessel has for many years participated in surveying for nautical charts off the coasts of Greenland. Nowadays, Svendborg Yacht Værft A/S have taken over the rights for the vessel from the Danish Navy Material Command. The vessel was first built at the Danish Naval Dockyard in Copenhagen in 1958, but Ejvinds Baadeværft in Rantzausminde by Svendborg has for years commisioned several of these vessels to the Navy as well. The vessels remain in service.
We replace our vessels on a regular basis and have several for sale at attractive prices. See www.ribcenter.dk for current offers.
TERMS OF USE FOR PICTURES AND LOGO
We wish to protect our name and business – therefore the following terms should be respected:
– When using the name and logo of RibAlex.dks for marketing purposes, written permission must be obtained from RibAlex.dk in each separate case
- All references (including text and pictures) to/regarding RibAlex.dk must be approved by RibAlex.dk
To obtain approval of use of material for reference, please contact our marketing department by phone at (+45)3296 4454 or by e-mail at kontakt@ribalex.dk