RIBALEX.DK BUSINESS
RibAlex.dk holds a large experience with business assignments at sea. Our vessels often prove useful for tasks where flexibility in personnel transport, asset transport, inspection or surveillance is required.
Our vessels are flexible and easily movable and maneuverable with short time of response. We can navigate under, between or close to objects in waters where larger vessels must resign.
The construction of the vessels make them extremely stable, secure and as seaworthy as substantially larger vessels. Furthermore, their agility and size makes for large savings in transportation time, response time and cost of operation.
AMONG TASKS FOR WHICH WE ARE FREQUENTLY USED, THE FOLLOWING CAN BE MENTIONED:
Diversion vessel
Safety vessel
Filming and photo shoots.
Rescue operations.
Salvation.
Diving assignments.
Transport of crew and light material for e.g. offshore windmills or other installations at sea.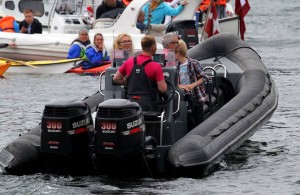 Our crew is highly competent and professional.
Among our customers, you will find power companies, shipbrokers, broadcast companies film producers and security companies.
Everything is possible. If you need to go offshore and a large vessel proves too costly, cumbersome or slow, we provide a sensible alternative.
If your assignment is special or advanced or if discretion is needed , we are the obvious choice.
We alvays have a vessel afloat, and are able to respond and react quickly when needed.
Do you have question, or do you need to book a solution on the water, please contact Alex Garavano on ribalex@mail.dk or mobile phone: +45 4021 8444.